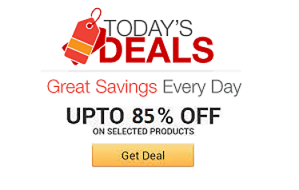 Find the coolest stuff at the lowest prices by browsing Amazon's incredible daily deals! You'll surely save a lot!
This indoor hydroponic garden side table is the perfect piece for city-dwellers who want farm-fresh herbs and spices but don't have the space for a garden. It takes all the hard work out of growing - allowing you to have a fresh supply of greens year-round.
Level up your game room with the Respawn-900 racing style gaming recliner! This man-cave must-have features segmented padding that is ideal for all-day gaming marathons in addition to a comfy headrest pillow that will help keep your spine aligned.
Enjoy a first-class spa experience from the comfort of your own bathroom by upgrading to this luxury computerized steam shower sauna. Apart from a refreshing shower you'll be able to enjoy a world class steam and even a hydro massage bath.
Instantly give your home a grisly ambiance by placing this giant inflatable grim reaper on your front lawn. It's made from a tough waterproof nylon cloth and comes with a built-in fan that will inflate it to a height of 8-feet in mere seconds.
Turn your unassuming garage door into a horrific accident scene with this headless body Halloween prop. This brilliantly designed prop creates the illusion that someone got gruesomely sliced in half by your garage door during a freak accident.
Help raise awareness for the environment by keeping your workspace tidy using these mini trash and recycle bin pencil holders. The amusing design disguises these pencil holders as a miniature version of the trash can and recycle bin we all have at home.
Take the hard work out of cooking by preparing your tasty meals using the Amazon Smart Oven. It boasts a temperature probe to help you cook your meal to perfection, voice control, comes with over 30 presets, and can be used to warm, cook, air fry, or microwave.
Fill the night with terror - Halloweentown style - by placing this inflatable green Oogie Boogie on your front lawn. Standing over six feet tall once inflated, Oogie Boogie will tower over all your other decorations while simultaneously giving your yard an eerie green glow.
What better way to keep the whole clan nice and cozy than with a monster Family Blankeez? Large enough to cover an entire SUV, this massive Snuggie style blanket comes with a sleeve at each end in addition to 5 separate head holes.