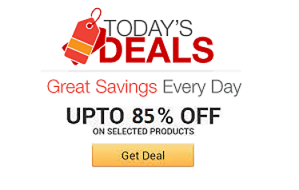 Find the coolest stuff at the lowest prices by browsing Amazon's incredible daily deals! You'll surely save a lot!
Have a laugh at the expense of others as you watch them struggle to plug in their electronic devices into the fake outlet sticker. Each one is printed onto a durable 4 mil vinyl adhesive with UV resistant paint to ensure the graphics don't fade with time or exposure to sunlight.
This overhead garage rack is the perfect solution to keeping your space decluttered and organized. Once mounted to your ceiling, this 14 gauge steel rack will be able to hold up to 600 pounds, allowing you to maximize your limited storage space like never before.
Instantly add a stylish spin to any room in your home by lighting up the place with this spiral led table lamp. This unique lamp features a contemporary and artsy spiral design that provides quaint ambient lighting in all directions.
Instantly improve your home's air quality by bringing in the Airmega 3000 smart air purifier. It features a real-time air monitoring system that provides air quality alerts, comes with a timer option, and can cover an area of up to 1,256 Sq. Ft.
Give the cat person in your life something to smile about when they're under the weather by surprising them with this cat head tissue box. Each time they go reach for a tissue, they'll have to pull it from the mouth a cute little feline.
Introducing the device you never asked for - the Amazon Alexa voice controlled microwave! It boasts features nobody would ever need in their lives such as the indispensable auto-popcorn replenishment system that reorders the good stuff when supplies is running low.
Change the feel and appearance of any room on a whim using these modular light surface tiles. The simple square design allows you to set them up into countless different shapes - allowing you to create truly memorizing patterns.
This 360-degree car dashboard security camera captures everything happening, even when your car is parked and you're nowhere nearby! You'll know exactly what's going on at all times with video streaming directly to your smartphone for maximum convenience.
Take a step towards helping Mother Earth by showering with this water saving mist shower head. This unique shower head atomizes streams of water into tiny droplets to achieve 10 times the surface area of a regular showerhead - using 70% less water!