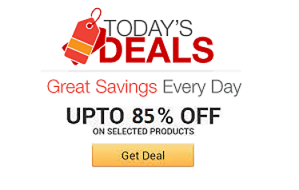 Find the coolest stuff at the lowest prices by browsing Amazon's incredible daily deals! You'll surely save a lot!
Maintain order inside your drawers on a daily basis by placing one of these honeycomb drawer organizers inside each one. It can easily be placed inside any standard drawer and provides 32 hexagonal slots ideal for ensuring your clothes remain separated.
Keeping your campsite bug-free is as easy as turning on this mosquito zapping camping lantern. This 2-in-1 rechargeable lantern comes fitted with a small waterproof ultraviolet light bug zapper that will provide a 16 x 16 foot mosquito-free zone.
Give the mundane task of telling time a fun out-of-this-world twist by hanging up this cool rocket moon wall clock. Thanks to the clock's clever design, you're treated to an ongoing flight flow as the small rocket orbits around the crater-filled moon ever sixty seconds.
Add a dash of style to any room in your home by turning on this quaint little transparent table lamp. Available in one of eight cool colors, each lamp features a completely see-through design that makes the old fashioned Edison bulb become the star of the show.
Add a touch of style to your nightstand or reading nook with this 3D illusion LED night light. Although the lampshade is actually flat, it creates a neat optical illusion that makes it seem like it's three dimensional when you flick the light on.
Shoo away daily stress with help from this miniature desktop zen garden. Available in a range of different shapes and styles, this little zen garden comes with everything you'll need for a relaxing session of meditation and reflection.
Gift someone special a nice big ol' "eff you" by surprising them with this middle finger candle. This golden hued candle is made with all natural renewable wax with a 100% cotton wick that will provide roughly thirty hours of constant animosity.
Add some natural beauty and texture to your humble abode using this hanging vertical garden wall planter. It's made from a special felt cloth that's self-absorbent, rugged, and breathable so that you can plant and grow a garden even if don't have the luxury of a backyard.
Do your part for the environment by switching over to these reusable bamboo towels for all your clean-up needs. These heavy-duty towels are not only stronger but also more absorbent and durable than standard paper towels.