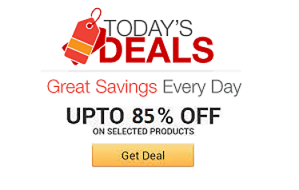 Find the coolest stuff at the lowest prices by browsing Amazon's incredible daily deals! You'll surely save a lot!
Help your clothes and shoes smell their best with these antimicrobial odor eliminators. These handy little capsules help absorb odors while preventing the growth of odor causing bacteria as well as acting as a drying agent when placed in damp shoes.
Unleash your inner ninja in the kitchen by slicing and dicing with the sword shaped knives in this ninja knife block. This mighty pint-sized warrior stands on constant guard as he holds up a sword styled utility, bread and chef's knife.
Maximize the limited space in your cozy kitchen without spending a fortune with help from this collapsible service cart. It comes with three sturdy levels, handles mounted on both sides, and can easily be collapsed all the way down to 8" for maximum portability.
Keep your fidgety fingers occupied for hours on end by purchasing 175 feet of bubble wrap. This hefty roll measures 12 inches across and contains 175 feet worth of pristine bubble wrap with thousands of little air filled bubbles just waiting to be pointlessly popped.
Improve your sleep quality by drowning out noisy distractions with this sensory deprivation dome pillow. This cozy and comfy pillow prevents light from hitting your eyes while also helping reduce outside noise so that you can sleep more soundly on a nightly basis.
Place a new spin on the way you attach papers by binding them together with the staple free stapler. Rather than using traditional metal staples, it makes tiny holes that create a sturdy seal that is strong enough to clinch up to five sheets of paper together.
This bump proof deadbolt door locker is the cost-effective solution to keeping your home safe from intruders. This PolyCarbonate lock installs in 3 easy steps without any tools, fits on virtually any lock, and will protect against keyed entry.
Help prevent the risk of major fire damage to your home by installing the Nest Protect smoke detector. This smart device detects and relays important fire related facts such as the fire's location and carbon monoxide readings right to your smartphone.
Move over bathtub gin, thanks to The Homemade Gin Kit whipping up homemade hooch is easier than ever! The kit includes all the tools, spices, juniper berries, and aromatics that you will need to transform a bottle of vodka into a delicious home-blend of your very own gin.