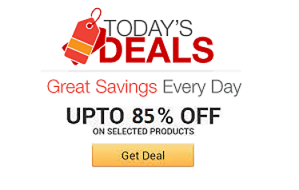 Find the coolest stuff at the lowest prices by browsing Amazon's incredible daily deals! You'll surely save a lot!
Keep your leg muscles from atrophying while you spend countless hours sitting in front of a screen using this sit down leg exercise machine. It works to improve circulation and helps increase movement so that you burn 17% more calories than while sitting.
Staving off boredom is simpler than ever with this playable art helicone by your side. It comes mounted on a solid wood base and boasts 38 precision laser cut pieces that can instantly transform between a pine cone and helix with a simple twist of your hands.
Add some charm and ambiance to your bathroom by installing this finger touch light bathroom mirror. Crafted from high quality silver backed glass, this sleek mirror is surrounded by a dimmable LED that you can easily switch on and off with just a touch of your finger.
Easily add a little life and color to any part of your home using these indoor suctioned window/wall planters. Available in vibrant colors like lime, blue, green, and purple, each little planter can conveniently be placed on smooth surfaces and windows.
With droughts and water restrictions becoming an ever-growing challenge, the AquaBoy Pro II air to water generator seems like a must-have for every home. Everyday it makes 2-5 gallons of purified great tasting water right out of thin air.
Sculpt the body of your dreams from the comfort of home by outfitting your door with this doorway workout station. It sets up in a snap and comes with a full dip station, abdominal station, and a pull and push station for a total body workout.
Get instant lighting wherever and whenever you need it by turning to the gravity self-powered LED lamp. Simply fill the provided bag with up to 26 lbs. of weight and pull the cord to winch up the bag and watch as it creates 20 minutes of light on its way down.
Set off an explosion of freshness during your next shower by washing yourself with this grenade soap. This life size 6 ounce soap is made with nurturing ingredients like shea butter and coconut oil and features a delightfully crisp scent reminiscent of fresh morning dew.
Give the Orange Sphincter a piece of your mind by lodging your pen firmly up this Donald Trump pen holder's bum. This pen holder/paperweight comes dressed in his signature navy blue suit and red tie while sporting his "Make America Great Again" cap.