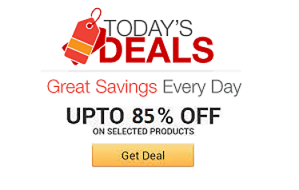 Find the coolest stuff at the lowest prices by browsing Amazon's incredible daily deals! You'll surely save a lot!
Enjoy having a perfectly manicured lawn year-round without putting in any hard work by placing the Gardena robotic lawnmower on the job. This diligent little worker is autonomous, emission-free, works in the rain, and can effectively mow a lawn area up to 800 square meters.
Avoid others from interrupting your private bathroom time while you're trying to do your thing by hanging up this "pooping please come back later" sign. Simply hang it up on the door knob just like you would a "do not disturb" sign on a hotel room door.
Keep a watchful eye over your humble abode 24/7 - no matter where you are - by outfitting your home the Ring smart home security system. It conveniently syncs to all your Ring doorbells and cameras so that you can monitor everything from your smartphone.
Make mornings more productive by getting a jolt of energy from this caffeinated toothpaste. With each brush equivalent to one cup of coffee, this plaque fighting toothpaste helps increase your focus and alertness without causing a crash.
Maximize the limited space in your suitcase while you travel by using this portable clothing compression tool. It instantly compresses the contents inside the vacuum bag - shrinking its size by up to 50%, so you're left with more usable space inside your luggage.
Keep your laundry room smelling as fresh as your newly washed clothes by preventing mildew from forming with help of the Laundry Lasso. It allows you to keep your washer's door slightly open yet out of the way to prevent mold, mildew, and bad odors from forming inside.
Avoid making a loud ruckus every time you drive in and out of your home by installing this ultra-quiet smart garage door opener. It features a remarkably silent 2HP motor, and can be fitted with a variety of extra modules like a speaker, park assist, and a fan.
Create an out-of-this-world ambiance next time you want to play some tunes by using this levitating UFO Bluetooth speaker lamp. Since the speaker doesn't touch the ground, it won't lose sound through vibration - resulting in crisper sound.
Who says a high quality security camera has to break the bank? With its 110 degrees per second rotation speed, 360 degrees horizontal range, and 93 degrees vertical range, Wyze Cam Pan delivers 360 degrees coverage for a fraction of the price of a traditional premium security camera!