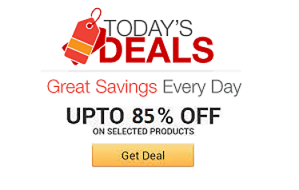 Find the coolest stuff at the lowest prices by browsing Amazon's incredible daily deals! You'll surely save a lot!
The BrewTender tabletop beer dispenser will ensure you'll always have a steady supply of nice cold beer all night long. Perfect for any home bar, this awesome accessory keeps up to 80 ounces of your favorite brew ice cold until the very last drop.
Raise morale at the workplace by celebrating mediocrity with this humorous "world's okayest employee" coffee mug. This hilarious 11 ounce novelty ceramic mug comes with the funny quip printed on both sides, making this a great gift for any underachieving employee.
Add brilliant natural color to your home bar by setting your refreshing beverages down on these sliced agate drink coasters. Each coaster in the set is crafted from gorgeous sliced Brazilian agate that is complemented by an elegant 24 karat gold plated rim.
Send your taste buds out-of-this-world by indulging in this edible s'mores waffle shot cup. Each small 100-calorie cup is made from a Belgian chocolate coated waffle cone complemented by a crumbled graham cracker and marshmallow cream filling.
Effortlessly uncork your bottle with the push of a button by grabbing a hold of this Nitrous oxide powered wine opener. It comes with an 8g N2O charger that will instantly pop open your bottle with no mess so that you can keep the wine flowing all night long.
Enjoy a steady supply of all natural honey without risking getting stung by using the automatic honey collecting beehive. The intrepid design of this quaint little cottage allows you to simply turn the tap and watch the honey flow directly into your jar.
Pound your meats with god-like fury by wielding this mini Mjolnir. Shaped like the Thunder God's iconic weapon, it features a comfy silicone grip and sports an engraving that reads "whosoever holds this hammer, if they be worthy, shall possess the power of Thor!".
Enjoy delicious rotis and wraps at the touch of a button by bringing the Rotimatic flatbread maker into your kitchen. This handy appliance allows you to choose the thickness and roast level of each 7 inch diameter flat bread you make.
Chug down an entire bottle faster than you ever thought possible using the Head Rush beer bottle bong! Simply attach this must-have party accessory to the end of your beer bottle, raise it up, and let the delicious nectar rush into your mouth!