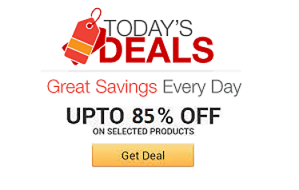 Find the coolest stuff at the lowest prices by browsing Amazon's incredible daily deals! You'll surely save a lot!
What better way to enjoy the game than with a frosty brew served in this 2018 FIFA Champions beer mug?Designed like a small replica of the famed cup, this 15.4 oz. capacity mug will make you feel like a total winner with every refreshing sip.
Staying in great health is tastier than ever when you begin taking this probiotic gummy supplement. These chewy bite sized gummies feature a zesty tropical mango taste and are designed to support a healthy digestion and immune health.
Conveniently cook a hearty breakfast without leaving behind a mountain of dirty dishes by preparing your meal on the Gourmia breakfast cooking station. The design lets you easily toast, steam, and fry - right from the comfort of your counter top.
Show everyone how like, totally over it you are, like for real this time, by serving your tasty entrees using the ex skewer set. This monument of relationships past stands by a small red serving tray while his body serves as the housing for a series of small and prickly skewers.
What better way to begin your day than with a nice hot cup of green tea latte? Simply add a spoonful of this lightly sweetened vegan friendly blend to your drink to instantly create a tasty and soothing cafe styled beverage in your home or workplace.
Hit the streets smelling like a real American hero by using this G.I. Joe cologne. Inspired by the troops and veterans who have bravely served, it features a unique woodsy scent and comes in a cool canteen styled bottle covered with a military grade canvas pouch.
This handwarmer coffee mug is the ultimate way to enjoy your warm beverage on a cold winter day. The design of these microwave, dishwasher, and oven safe coffee mugs cleverly utilizes the heat from your hot beverage to warm your hand while you hold the mug.
Send your taste buds into ecstasy by biting down on a savory homemade poop swirl cookie. With this easy to use cookie cutter you'll be able to create dozens of tasty poop swirl shaped cookies without hurting your hands thanks to the comfortable rubber grip.
Get the energy and focus you need to tackle your day by filling your mug up with this mushroom coffee. This tasty vegan-friendly blend combines rich coffee with Cordyceps and Chaga mushrooms for higher levels of energy and stamina.