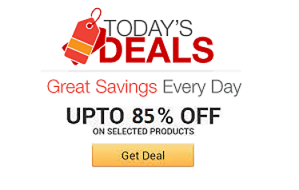 Find the coolest stuff at the lowest prices by browsing Amazon's incredible daily deals! You'll surely save a lot!
Impress friends and family with your sophisticated palate by preparing your food using this spherical food converter. It lets you turn almost anything into tiny edible caviar shaped pearls that look like they would cost a fortune.
Enjoy a coffee house quality cup of Joe nearly anywhere you venture to by bringing along this handcrafted instant coffee. Each little plastic vial comes with a premium roast that can instantly be prepared and enjoyed either hot or cold.
If this lodged bullet shot glass proves just one thing, is that alcohol and firearms are the perfect combination. Each shot glass is expertly hand-blown and fitted with a real .308 bullet lodged into the side, creating the illusion that the glass is nearly unbreakable.
With the Sous Vide precision cooker you'll be able to whip up dishes so incredibly tender your dinner guests will think they're dining at a 5-star restaurant. It heats up and maintains water inside the pot to a precise temperature, allowing for maximum moisture retention.
Leave your dinner guests begging for seconds by utilizing this easy to use meat and poultry injector. It features a large handle so that you can pull and push from any angle and boasts a wide stainless steel needle that is ideal for thick sauces and marinates.
Mixing ammunition and drinking usually isn't a good idea, unless you're pounding your brew from this .50 cal real bullet pint glass. This 16-ounce capacity glass's eye-catching design is a guaranteed conversation piece that will blow everyone away.
This holiday season, treat your taste buds to these festively themed mac & cheese flavored candy canes. Each yellow-striped candy cane in this six piece set will make you feel like you're digging into a creamy bowl of some delicious mac & cheese.
Double your yearly intake of birthday cake by making your half birthday official with your very own half birthday cake. This festive candle is available in either hot pink or black and makes the perfect little gift for the person who loves to celebrate every occasion.
Make those chilly winter days a bit more bearable by inviting Carl the chocolate snowman to hop into your warm pot of milk. As Carl melts, his marshmallow filled chocolaty remains dissolve into the milk to create a sweet and savory hot chocolate.