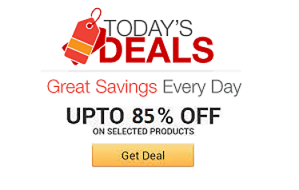 Find the coolest stuff at the lowest prices by browsing Amazon's incredible daily deals! You'll surely save a lot!
Ensure your favorite vino is perfectly aerated when it's time to pour by placing it inside the belly of the Riedel boa decanter. The dazzling snake-like shape of this handmade decanter creates a double decanting effect so your wine is intensively aerated before drinking.
Finally, a wine glass that fits your needs! The BigMouth Inc Wine Bottle Glass is PERFECT for the wine snob in your life (even if it's yourself). It holds an entire 750mL bottle of wine-or just one serving *wink wink*.
What's the best way to top off an already perfect pizza meal? With this gourmet chocolate pizza of course! This sugary seven inch wide dessert is made with rich Belgian chocolate, brownie and fudge morsels garnished with white chocolate shavings.
Scare the hell out of your guests with these terrifying "You Have Just Been Poisoned" glasses. Perfect for serving drinks to people you secretly hate, or for just playing pranks on friends, the "You Have Just Been Poisoned" glass has a variety of evil applications.
Give your taste buds a nice little kick during snack time by munching on these Ghost Pepper gumballs. Each bag comes filled with 25 large cinnamon flavored gumballs with a sour coating made with real Ghost Peppers that are well over 1 million Scoville heat units.
Ensure you get every last bit from from jars by swapping out your traditional spoon for this silicone jar scraping spoon. The ingenious design features a flat squeegee tip and flexible sides that will effectively help you scrape those hard to reach spots and corners.
Keep your food and beverages at the perfect temperature while you're on the road by storing them inside this hot/cold thermoelectric cooler. Powered by a small motor, it can either be utilized as a cooler to keep your food chilled or a warming box ideal for hot meals.
Minimize the risk of accidents while transporting your beverage by placing it on the spill proof mug holder. It features a simple design that consists of a hanging saucer attached to a very flexible loop handle that prevents the delivery of lateral acceleration to the cup.
Make the trendiest dish even trendier when you prepare a meal using the sushi rice cube maker. This innovative sushi maker bypasses the traditional cylindrical shape for a cube shape. It will turn your dish into a culinary masterpiece that everyone will love.