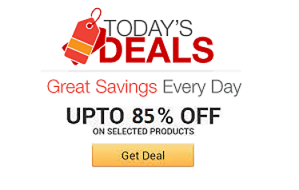 Find the coolest stuff at the lowest prices by browsing Amazon's incredible daily deals! You'll surely save a lot!
This beautifully designed cocktail kit serves 6 premium Old Fashioned cocktails. The kit includes a custom cocktail spoon & muddler, 3 cocktail picks, and cocktail napkins, in addition to all the necessary ingredients you'll need to make a top-notch Old Fashioned.
Enjoy some soothing matcha tea from the comfort of home using this matcha green tea set. This neat little gift box comes with everything required to whip up an authentic matcha beverage, such as a Japanese made bowl and bamboo utensils.
Get whisked off to your favorite corner deli the next time you decide to soak in a relaxing bath by dropping in these roast beef sandwich bath salts. These deliciously weird premium quality bath salts make the perfect gift for any meat lover that enjoys pampering themselves.
The Bripe coffee brewing pipe is the must-have accessory for any caffeine addict who loves the great outdoors. This ultra portable copper pipe allows you to easily whip up a savory cup of Joe, espresso, or tea in less than three minutes.
Create out-of-this-world treats that'll please any sci-fi enthusiast using this Han Solo trapped in carbonite ice tray. You'll be able to fill this rubber tray with either melted chocolate or water to make little Han Solo chocolate bars or ice cubes.
This craft beer jam is the perfect gift for the craft beer lover who has it all. Each set of this Vermont-crafted jelly comes with an IPA jelly ideal for cheddar and cured meats, an oatmeal stout great for bold breads, and a porter jelly that you'll want to try with peanut butter.
Say hello to the world's new hottest chili pepper - the Dragon's Breath chili pepper. While a traditional chili pepper is around 5,000 Scoville heat units, the Dragon's Breath is an unbelievably hot 2.48 million Scoville heat units - approaching spontaneous combustion territory!
Make your coffee breaks a little more fun by sipping your brew from this hidden middle finger coffee mug. As soon as you begin sipping your java, the middle finger at the mug's base becomes visible so that you can discreetly flip off everyone that comes your way.
Give any dish a spicy kick using one of these sriracha seasoning sticks. Simply impale the sticks into your meats and they will slowly begin to liquefy as you cook, allowing your meats to absorb the flavor from the inside out.