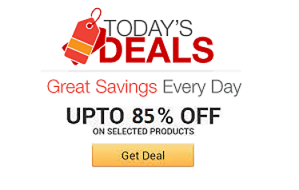 Find the coolest stuff at the lowest prices by browsing Amazon's incredible daily deals! You'll surely save a lot!
Forget what all of those eCards on Facebook say, if you didn't read Golden Books, your childhood sucked. Written by longtime editor of the iconic series, Everything I Need To Know I Learned From a Little Golden Books draws from more than 60 of the stories to delight old people like us who enjoyed the books as kids. Take a trip down memory lane with life lessons inspired by The Poky Little Puppy, Pantaloon, Mister Dog, Nurse Nancy, We Help Mommy, Five Pennies to Spend, The Little Red Hen and more. Of course it features a gold foil spine!
You know Furries? This book reminds me of that. Crayons, coloring, and coloring are for kids. Sex is not. See the connection? Sex Position Coloring Book: Playtime for Couples is this first-ever (thank goodness for that) interactive intercourse guide that partners can color in together. Like side by side? Naked? We can only assume so. The book includes 101 ready-to-color outlines of couples in real sex positions. It's prime eligible on Amazon, so you know what you'll be bringing to the holiday office gift exchange!
SuicideGirls: Geekology is a coffee table book featuring sexy, tatted pin-ups. It shows the beauties doing all kinds of nerdy stuff like gaming, reading comics, cosplaying, and more - in the nude. Geeky, tasteful nudes, man! You can't beat that.
Drive your partner wild by appealing to their sweet tooth with this delectable candy G-String. These sensual undies are made entirely out of little heart shaped multi-colored hard candies perfect for spicing things up in the bedroom.
Avoid having to place your designer bag on the dirty floor by carrying around this instant bag hanging clip. Simply open up the circular accessory and place one of the rubberized ends on the table's edge to conveniently hang your bag right beside you.
Caring for newborns is easier than ever with the Babies Owner's Manual. It takes you through all the stages of baby ownership like "refueling" and "garaging" - displaying helpful facts flow charts and even wiring diagrams to facilitate the learning process.
Keep yourself from drowning in the pussy next time you find yourself plunging into a revitalizing muff-dive by wearing this glow in the dark pussy snorkel. With this handy contraption you'll be able to perform uninterrupted cunnilingus with ease.
D*ck in a Box is back! Just in time to dil-dole out some good times at the office and an April Fool's Day gift or two. Like many popular send-it-anonymously pranks, maker Witty Yeti will take a sworn oath to mail your...
Create an awkward but incredibly entertaining situation at the workplace by sending one of these embarrassing prank shipping boxes to a fellow employee. Each anonymous package arrives with a NSFW label guaranteed to make them blush.