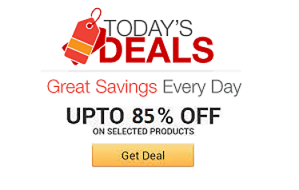 Find the coolest stuff at the lowest prices by browsing Amazon's incredible daily deals! You'll surely save a lot!
Do your part for the environment on a daily basis by switching to these reusable/washable bamboo paper towels. These cost-efficient towels are durable, super absorbent, and can be machine washed up to one hundred times.
Take your culinary skills up a notch by creating 5-star restaurant quality meals using this molecular gastronomy starter kit. The kit comes with everything you'll need in order to create amazing dishes like chocolate spaghetti, and mint caviar beads.
Kick things up a notch this year and celebrate Pi Day in style by baking a delicious treat inside this pi pie pan. Thanks to this cleverly shaped anodized 3003-alloy aluminum pan you can make a delectable treat shaped equivalent to a nine inch pie.
Feel safe when you're strolling down the mean streets by strapping on this pepper spray bracelet. This handy accessory can be used up to three feet away and features a sleek and slim minimalist style that's discreet and comfortable!
If treasure filled soul snatching adventures are your thing you'll love Boss Monster - the dungeon building card game. You must outbid every other player so that you can build the most enticing dungeon in order to lure unlucky adventurers and steal their souls.
Ensure victory by refilling less than your opponent by using this bazooka water gun instead of a standard Super Soaker. The inventive design features a nozzle that allows you to screw on almost any plastic bottle and fire a stream of water up to 30 feet away.
Add a little intrige to your humble abode by creating your own private space using this DIY hidden door kit. With this kit you will be able to transform your regular bookshelf into a passageway that leads to an undisclosed area of your home.
Make your daily commute a bit more bearable by giving yourself a luxury shiatsu massage while stuck in soul crushing bumper to bumper traffic! This shiatsu pillow massager is equipped with powerful 3D deep kneading massage nodes that perfectly contour to your body.
Start your day off right by setting the tone with the "Get Sh*t Done" coffee mug. This matte finished coffee mug is reported to increase productivity by an astounding 200% while reducing time spent looking at pictures of cats on the internet by a respectable 22.73%.