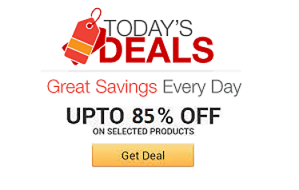 Find the coolest stuff at the lowest prices by browsing Amazon's incredible daily deals! You'll surely save a lot!
Give your mundane naps a bit of superhero flair by covering your peepers with this Batman sleep mask. This 3D sleep mask features a unique contour design around the eye cavities for zero pressure on the eyes and nose as you slumber.
When you venture far away from civilization, this roll-up solar charger will be your best friend. It can easily strap onto your pack without weighing you down, can charge your cell phone 1.5 times, and will recharge its internal battery with about 6 hours of sunlight.
Make everyone's insides rattle by blasting your music out of the ultimate party speaker. This massive 462Wh speaker is fitted with 12 amplifiers and 14 speakers that will produce a rich distortion-free sound, no matter how high you raise the volume.
Flex your brain muscles and see if you've got what it takes to solve this bottled frustration brainteaser puzzle. In this surprisingly challenging brainteaser you'll be tasked with trying to remove the small wooden marble from the bottle. Simple enough, right?
Fill your future astronaut's room with wonder and quaint ambient lighting using this awesomely designed space shuttle blastoff lamp. Standing at 11-inches, this eye-catching lamp will give any bedroom a relaxing red orange glow that won't overpower the eyes.
Fill the night with terror - Halloweentown style - by placing this inflatable green Oogie Boogie on your front lawn. Standing over six feet tall once inflated, Oogie Boogie will tower over all your other decorations while simultaneously giving your yard an eerie green glow.
Make drinks for appealing for the kiddos with these reusable licorice straws. These colorful and tasty-looking straws are made from a tough food-grade silicone that's durable, flexible, and even heat resistant which makes them perfect for both hot and cold beverages.
What better way to keep the whole clan nice and cozy than with a monster Family Blankeez? Large enough to cover an entire SUV, this massive Snuggie style blanket comes with a sleeve at each end in addition to 5 separate head holes.
Give your garden some personality by growing these eye-catching monkey face orchids. With these flower seeds you'll be able to fill your already lively garden with rare and alluring orchids that can bloom during any season and will make your yard the talk of the block.