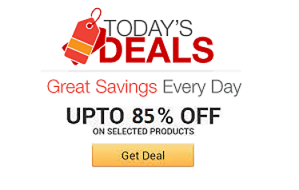 Find the coolest stuff at the lowest prices by browsing Amazon's incredible daily deals! You'll surely save a lot!
Quit wasting your time with antiquated fruits and veggies - now you can inhale your vitamins with these vape cartridges! These nicotine and calorie-free cartridges deliver a healthy dose of B12 to your bloodstream in mere seconds.
The zero gravity massage chair delivers a luxury relaxation experience unlike any other. This high-tech chair boasts a computer body scan system and features heated pads along with six different massage options that include kneading, rolling, and shiatsu.
Ensure you're nice and toasty when the temperature plummets by slipping into this heated hoodie. These winter threads come with a built-in 4400 mAh battery designed to heat the front and back zones of your torso, so that you remain as warm as possible at all times.
Increase your chances of getting through an emergency situation with this 72 hour survival kit. Assembled by survival experts, this compact pack contains over 30 useful tools stuffed inside an incredibly durable and waterproof tarpaulin exterior.
Whip up one incredible meal after another with the greatest of ease by cooking with the Instant Pot. This programmable pressure cooker replaces 6 kitchen appliances - allowing you to perform everything from sauteing and cooking to warming, steaming, and more.
Show off your holiday spirit by adorning your luxurious face mane with these eye-catching light up beard baubles. This festive set includes 6 colored 2mm battery operated baubles fitted with ultra mini pins so that you can comfortably hang them on your fuzzy panty dropper.
Make your already tasty hot cocoa more delicious than you ever thought possible by complementing it with this snowflake marshmallow mug topper. The giant snowflake floats above the chocolate to give your drink a fun and delicious holiday twist.
This holiday season give "the gift of nothing" to those who truly deserve it. Whether it's a former lover, an evil boss, or just a spoiled little brat child, the gift of nothing will show how much you care and how much effort you've put into giving them something really special.
Kick your Christmas fiesta into high gear by walking in dressed in this beer pong ugly Christmas sweater. It features a festive design where the 6 removable red beer pong cups act as the ornaments on the little Christmas tree.