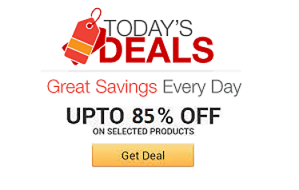 Find the coolest stuff at the lowest prices by browsing Amazon's incredible daily deals! You'll surely save a lot!
What better way to begin your day than with a nice hot cup of green tea latte? Simply add a spoonful of this lightly sweetened vegan friendly blend to your drink to instantly create a tasty and soothing cafe styled beverage in your home or workplace.
Hit the streets smelling like a real American hero by using this G.I. Joe cologne. Inspired by the troops and veterans who have bravely served, it features a unique woodsy scent and comes in a cool canteen styled bottle covered with a military grade canvas pouch.
Do battle at the highest of levels when you square off with an opponent at lightsaber thumb wresting. The mini lightsabers attach to the thumb via velcro to provide a more civilized way of dueling with the enemy while the scenic stage helps prevent illegal moves.
This handwarmer coffee mug is the ultimate way to enjoy your warm beverage on a cold winter day. The design of these microwave, dishwasher, and oven safe coffee mugs cleverly utilizes the heat from your hot beverage to warm your hand while you hold the mug.
Send your taste buds into ecstasy by biting down on a savory homemade poop swirl cookie. With this easy to use cookie cutter you'll be able to create dozens of tasty poop swirl shaped cookies without hurting your hands thanks to the comfortable rubber grip.
Keep boredom at bay by making sure you carry the credit card size 8-bit game system with you at all times. It features a brilliant OLED display in addition to soft touch tactile buttons and a long lasting battery so that you can enjoy classic games wherever you go.
Greet new guests with a little humor by setting this "proceed with caution" doormat outside your home's entrance. This high quality choir mat measures 5.75 x 23.6 inches and features a sturdy PVC backing to prevent slippage.
Avoid having to sleep on top of the unforgiving ground next time you camp by setting up the Vertex 2-person double hammock. It features a zippered netting ideal for pesky bugs and an independent suspension that allows both occupants to sleep comfortably.
Get the energy and focus you need to tackle your day by filling your mug up with this mushroom coffee. This tasty vegan-friendly blend combines rich coffee with Cordyceps and Chaga mushrooms for higher levels of energy and stamina.