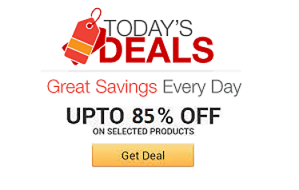 Find the coolest stuff at the lowest prices by browsing Amazon's incredible daily deals! You'll surely save a lot!
Skinners are the revolutionary new type of footwear that offer the protection of shoes with the freedom of being barefoot. Made with antibacterial yarns, they feature a waterproof underside, mesh ventilation zones, and can easily be rolled up to fit anywhere.
Upgrade your life by giving your game room a major face lift with this Pac-Man arcade and drink cooler machine. The top half of the machine is a fully functional Pac-Man Pixel Bash arcade game while the lower half houses a fully functional mini fridge.
From the creators of Stretch Armstrong comes a fun new toy - Truth Stretch Trump! Number 45 comes dressed in his presidential blue suit and embarrassingly long red tie, sports a radiant orange complexion, and can stretch up to 4 feet from head to toe.
No matter what task you need to accomplish, this multi-tool nose pliers pocket knife is sure to have the right tool for the job. It features a solid stainless steel construction and comes loaded with 18 ultra useful everyday tools ranging from mini pliers to a trusty razor sharp blade.
Fill your drab day with a little color and humor with "How To Get Fired On Your First Day". This witty notebook comes with 200 blank white pages and is styled like a fake and totally preposterous book that's sure to get a laugh or two.
Fill your little princess's day with magic by having her light up the tree using this fun light wand Christmas tree remote control. Now instead of looking around the tree for the tiny switch at the bottom, you can simply give this hand a whirl to instantly light it.
Put your craft beer connoisseur cred to the ultimate test by playing Unlabeled - the blind beer tasting board game. Players taste the same beer, evaluate the game board, and attempt to correctly identify its characteristics, general category, or specific beer type.
Keep your hand from feeling like an icicle when you're working in your igloo of an office by plugging in this USB heated mouse pad. This fuzzy mouse pad comes with a built-in warmer that will keep your hand nice and toasty while you work.
Monopoly for Millennials is the depressingly accurate new version of the classic board game. Instead of collecting cash and properties, you rack up experience points as you go around the board visiting new places - because you'll never be able to afford a house anyway.