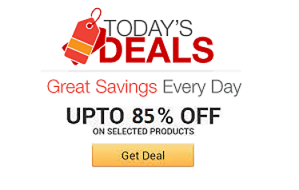 Find the coolest stuff at the lowest prices by browsing Amazon's incredible daily deals! You'll surely save a lot!
Stay close to your beloved city at all times by decorating your home with the New York City skyline wall mural. This stunning mural displays a remarkably ...
Don't let lukewarm bubbly potentially ruin your special night - by using the ice bottle chiller mold your wine or champagne will always be perfectly ...
Make breakfast a memorable meal when you add a personal touch using the French toast stamp on your morning meal. With each stamp, the delicious toast gets ...
Mistakes will become something to smile about when using the 'oops!' vinyl eraser to correct them. This comical vinyl eraser is perfect for use on all types ...
Going green just got even easier. This grass charging station is a fun twist on the popular charging stations you see available to recharge your electronic ...
Provide hours of wholesome entertainment for the entire family by bringing along the floating cornhole set. The game board features a fun colorful design ...
Who lives in a pineapple-shaped Spongebob aquarium ornament? Your goldfish, that's who. Give your aquarium the same flair as Bikini Bottom with a new ...
Ensure fellow party goers end up rip roaring drunk at your next water themed soirée with help from the inflatable beer pong table. This five foot long table ...
Never go to a barbeque without packing heat - these eye catching condiment dispenser guns will show everyone that you don't mess around when it comes time ...