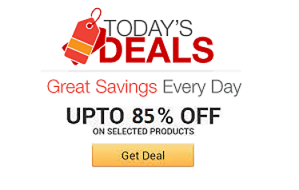 Find the coolest stuff at the lowest prices by browsing Amazon's incredible daily deals! You'll surely save a lot!
Now you can drop f-bombs all day long and be commended for your organization and professionalism around the workplace with the f-bomb paperweight. Made from ...
Practice your deadly combat strikes while dicing up a healthy salad with this karate chop lettuce chopper. These clever lettuce choppers are dishwasher safe ...
This tree bookshelf transforms literature into beautiful and functional wall art. Made using a real fallen tree branch, the shelf features an artistic and ...
Carry everything at once using the bulk grocery bag holding tool and make second trips from the car to your home obsolete. This heavy duty tool is ideal for ...
Bigfoot exists and this whole time he's been hiding in your own backyard! This mini Bigfoot statue stands just under two feet tall and will cause all your ...
If you are a cotton candy fan, you should check out the mini cotton candy machine. The cotton candy machine makes every day into a day at the fair with mini ...
Get serious about your spitball ammunition with these glow in the spit balls. Capable of growing over two hundred times their original size, these fun to ...
Burn through fat stacks like it's nothing when you set the dinner table with the hundred dollar bill napkins. Each napkin comes emblazoned with a hundred ...
Style yourself like a true drunken cowboy with these officially licensed cowboy hats made from an eighteen pack of beer. Available in all the major beer ...