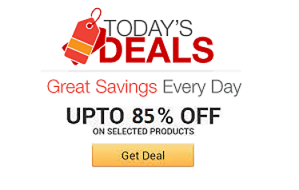 Find the coolest stuff at the lowest prices by browsing Amazon's incredible daily deals! You'll surely save a lot!
Give your modern home a vintage touch the whole family will enjoy when you hang the moving eye Kit-Cat clock on your wall. As time marches on, old Kit-Cat's ...
You do everything your with your dog - so why not drink with him too? With Bowser, the beer for the dogs, your best friend can join you on nights of drunken ...
Help keep your pigsty of a room a little more organized by placing some of your essential belongings in the bedside storage caddy. The functional design ...
There's nothing better than a good ol' pretzel on a summer day - especially when it helps you cool off like the pretzel pool float. This over sized pretzel ...
Turn any beach, backyard, or park into the perfect barbecue site with this portable propane grill. This heavy duty steel grill will fit just about anywhere ...
Bring the fun out of your serious strategy games partners with the wobble chess set. At first it may seem like another fancy chess board with shiny pieces ...
Relax in the comfort of a hammock without running the fatal risk of falling over the side with the floating swing chair. More than just stylish, the chair's ...
Declare war on your neighbors with this real wooden medieval trebuchet. It may not be able to blow up planets like the Deathstar, but this medieval ...
Transform any tub, sink, or bowl in your home into a calming koi pond with the color changing koi fish toy. These realistic looking koi fish float at the ...