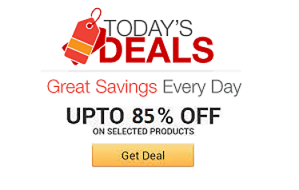 Find the coolest stuff at the lowest prices by browsing Amazon's incredible daily deals! You'll surely save a lot!
Forget about lame perpetual motion devices and switch to the levitating platform to really make a splash at the office. This unique platform levitates small ...
Receive some major hipster points when you show up to the coffee shop with this leather book laptop cover. This distinguished cover disguises your modern ...
Keep every knife in your collection razor sharp with the two stage pro knife sharpener. The sharpener is ergonomically designed to provide a comfortable and ...
Everyone loves lying back and reading a book in bed at night, but no one loves it when their spouse turns off the light, leaving the book and reader in the ...
Slice and dice without fear of accidentally chopping off your fingers using these cut resistant gloves. These specialized gloves feature an exclusive cut ...
Give your home bar or man cave an authentic alcoholic touch with the beer keg stools. Just consume an entire beer keg by yourself, and this stool kit will ...
Now you can easily catch loose hair trimmings and degrade your child all at the same time with this wonderful haircut umbrella! Perfect for giving haircuts ...
Reign supreme on the porcelain throne with this beautifully crafted royal toilet that is fit for a king. With medieval luxury, this wooden royal toilet ...
Zombify up your lawn and disturb all your pesky neighbors with this lawn zombie decoration. Perfect for Halloween decorating - the zombie decoration looks ...