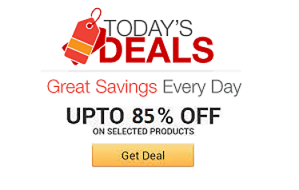 Find the coolest stuff at the lowest prices by browsing Amazon's incredible daily deals! You'll surely save a lot!
Science, bitch! This nostalgic electricity ball combines captivating art with simple science to create a fun, interactive, and mildly educational toy ...
The lucky pilot of the spaceship inflatable pool toy will rule the pool with an iron fist as they bombard alien scum and any other sunbather or bystander ...
Star Wars and LEGOS have always gone together like peanut butter and jelly, but this LEGO Millennium Falcon takes the cake. The 5,195 piece Millenium Falcon ...
Now you can combine Halloween with Christmas and celebrate these joyous holidays for two months straight with this Nightmare Before Christmas lamp ...
Get an astronomer's point of view of the night sky as you stare at its many star formations on the glowing constellations globe. This 2-in-1 globe displays ...
Celebrate the holidays in true geek fashion with the Star Wars AT-AT snow globe sitting on your mantle. Don't just opt for a boring Santa or reindeer snow ...
Carry your things around with this cool Star Wars Chewbacca plush backpack, not only will you look like a stud, but you will also be quite warm while ...
Show off your love for Sanrio's famous feline with the Hello Kitty backpack. This adorable plush backpack is styled to look like an over-sized version of ...
Smell like a champion with the Eau De Playdoh cologne. It's been reported that experiencing the smell of Playdoh will bring back memories of better days ...