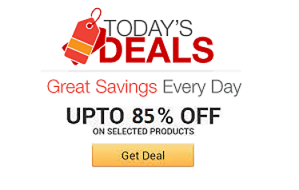 Find the coolest stuff at the lowest prices by browsing Amazon's incredible daily deals! You'll surely save a lot!
Paint by numbers is the easy-to-follow kit that helps you create amazing masterpieces even if you have no artistic skills. Simply match the numbers to the corresponding color of paint and watch as the work of art appears right in front of your very eyes.
Don't venture into the great outdoors without the world's toughest ultralight survival tent! This reusable windproof and waterproof shelter is made from a tear-resistant, extra-thick HeatFlex Mylar that can reflect heat outward or inward - making it ideal for both hot and cold climates.
Quit living like a savage and clean yourself like a civilized person by switching over to the Asswipes flushable hygiene wipes. Each pack includes 45 wipes made with chamomile, cucumber, aloe and vitamin E for a truly heavenly feel on your derrière.
The world's mattest and flattest black paint is so dark it'll turn virtually any item into a jet-black object with just a single coat. This ultra-black acrylic paint reflects absolutely no light and features a surprisingly pleasant cherry-like aroma.
Improve your little tadpole's snorkeling experience by sending her into the water with this Yamaha Explorer seascooter. Weighing a mere 11.5 pounds, it features a compact design that's easy to maneuver and travels at speeds of 2.5 mph at depths of up to 30 feet.
Setting up a secure perimeter is safer and more convenient than ever thanks to these LED emergency road flares. The set includes 3 heavy duty shatterproof, crushproof, and weatherproof flares that offer 9 different flashing modes so you're prepared for any situation.
Spice up your room's decor in true gamer fashion with these mind blowing Portal mirrors. The set of oval mirrors is fitted with a custom LED rim that shines in vibrant blue and orange to create the illusion you have fully functional portals in your home.
Prevent harmful UV rays from damaging your ride's interior by keeping your car cool with this Rick and Morty windshield sunshade. This accordion sunshade creates the illusion that Rick and a reluctant Morty are piloting your vehicle while you're away.
Carry an arsenal of life saving tools in the palm of your hands using this paracord survival grenade. The interior of this 550 paracord grenade is filled with 26 useful items such as waterproof matches, a compass, fishing hooks, and even a compressed towel.