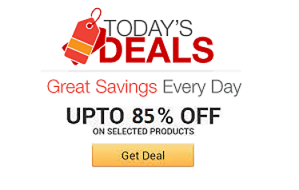 Find the coolest stuff at the lowest prices by browsing Amazon's incredible daily deals! You'll surely save a lot!
Sometimes you need a drone that is really capable of some heavy duty spying on your friends and family. At those times the Tiny Nano Drone with Camera is the perfect solution!
Make geography fun for your young scholars with this kids interactive world map. This educational toy features a large and vibrantly colored image of the world, and comes with 1,000 facts about 90+ different countries.
Make learning fun for your young astronomers using the space exploration virtual explorer. The compact planetarium and virtual reality goggles combine to provide a fully immersive 360 degree journey of our solar system and nearby stars.
Hatchimals are magical creatures that live inside of eggs. Who's inside? It's a surprise! Each egg contains one of two interactive Hatchimals. Love and care for yours inside the egg and its eyes will light up as it makes cute sounds, telling you how it's feeling!
Fans of Steven Universe are sure to recognize this iconic Cheeseburger Backpack. Perfect for carrying your lettuce filled lunch to school or work. You...
Nobody Likes A Cockblock is a full color paperback children's book for adults about woodland creature moms and dads just trying to get their swerve on. It's 32-pages of inappropriate prose that will leave you laughing about your sad, sex deprived life.
Help your little acrobats develop healthy habits from early on by letting them loose on this indoor kid's playground. It sets up easily, features a sturdy structure, and comes with everything from a cool climbing rope to monkey bars and a ladder.
Codeybot brings some STEM education to kids whose eyes and fingers crave tablets and touch screens. The rolling robot will be their interactive buddy their entertainer or their solider in battle...as long as they program...
The 4moms self-installing car seat may not be the most sparkly fun or pampering gift for new moms to unwrap this holiday season but it could prove to be the greatest they've ever received. Paired with its watchdog...