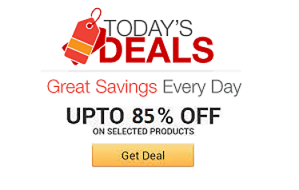 Find the coolest stuff at the lowest prices by browsing Amazon's incredible daily deals! You'll surely save a lot!
Keep your refreshments handy at all times when relaxing in the yard with the outdoor drink holder. It's designed to hold two drinks at once and features a ...
Enjoy dessert on a nightly basis by satisfying your sweet tooth with the giant ice cream cone lamp. This tasty lamp stands 28 inches in height and comes in ...
Conquer any rough terrain you encounter after assembling this R/C Toyota Land Cruiser kit. Designed for dedicated off-road R/C car enthusiasts, this ...
Work on the fundamentals in your spare time by throwing this passback practice football against a flat wall. The unique half-shape of the football makes it ...
Help keep your home tidy in between cleanings by wearing these floor cleaning slippers. The soles of these super comfy slippers are removable for easy clean ...
Increase your chance of survival during a disaster with this emergency kit backpack. Made to last four people up to three days, it comes with a plethora of ...
Bring your garden up to speed with the modern world with these super bright light up planters. Each one of these planters has fifteen LEDs inside that ...
Don't get caught in a survival situation without the firestarter keychain. This keychain really is hot stuff - it can start a fire with some kindling and ...
Make your dream of owning a classic car a reality without plunging yourself into debt with this LEGO Volkswagen Beetle Kit. Modeled after the iconic 1960 ...