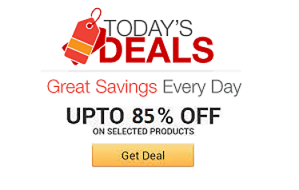 Find the coolest stuff at the lowest prices by browsing Amazon's incredible daily deals! You'll surely save a lot!
Experience the Star Wars saga reimagined as an Elizabethan drama penned by William Shakespeare himself, complete with authentic meter and verse, and theatrical monologues and dialog by everyone from Darth Vader to R2D2.Return once more to a galaxy far, far away with this sublime retelling of George Lucas's epic Star Wars in the style of the immortal Bard of Avon. The saga of a wise (Jedi) knight and an evil (Sith) lord, of a beautiful princess held captive and a young hero coming of age, Star Wars abounds with all the valor and villainy of Shakespeare's greatest plays. Authentic meter, stage directions, reimagined movie scenes and dialogue, and hidden Easter eggs throughout will entertain and impress fans of Star Wars and Shakespeare alike. Every scene and character from the film appears in the play, along with twenty woodcut-style illustrations that depict an Elizabethan version of the Star Wars galaxy. Zounds! This is the book you're looking for.
You keep your action figures in their original packaging. Your closets are full of officially licensed Star Wars merchandise. You're hooked on Elder Scrolls and Metal Gear but now you've discovered an even bigger obsession: the new girl who just moved in down the hall. What's a geek to do? Take some tips from The Geek's Guide to Dating. This hilarious primer is jam-packed with cheat codes, walkthroughs, and power-ups for navigating the perils and pitfalls of your love life with ease. Geeks of all ages will find answers to the ultimate questions of life, the universe, and everything romantic, from First Contact to The Fellowship of the Ring and beyond. Full of whimsical 8-bit illustrations, The Geek's Guide to Dating will teach fanboys everywhere to love long and prosper.
Get to know the stranger and lesser known heroes of the comic book world in detail by going through the pages of the League Of Regrettable Superheroes. It ...
Learn everything the modern gentleman should know by studying the contents within 'The Art of Manliness' book. The book places a wealth of information at ...
When plain notes fail to capture your boss's attention, leave it to the WTF sticky notes to get the job done. These novelty sticky notes come with an eye ...
Give everyone that passes through a warm friendly greeting with the middle finger snowglobe. Great for use throughout the entire year, just a few shakes ...
Immortalize your riveting social life as you keep a running log of all the high profile guests that have plopped down beside you with the couch guest book ...
Solve any dilemma that comes your way with ruthless efficiency with hep from this pros and cons notepad. Whenever you're struggling with one of life's many ...
Cool item! You'll never give a boring gift again with our never ending list of amazing products.