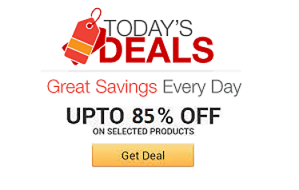 Find the coolest stuff at the lowest prices by browsing Amazon's incredible daily deals! You'll surely save a lot!
Whip up delicious treats the entire family can enjoy with the chocolate chip cookies recipe book. This entertaining read contains dozens of inventive baking ...
Even after being bit by ravenous zombies, the game of cribbage refuses to die - it just morphs into the zombified playing cards. Each face card in the deck ...
The arrival of new troops can be littered with potential danger, luckily the Fatherhood Training Manual is here to help you avoid them. Its pages are ...
Everyone wonders what it's really like in space, but very few of us have ever had the chance to experience it firsthand. This captivating illustrated collection brings together stories from dozens of international astronauts—men and women who've actually been there—who have returned with accounts of the sometimes weird, often funny, and awe-inspiring sensations and realities of being in space. With playful artwork accompanying each, here are the real stories behind backwards dreams, "moon face," the tricks of sleeping in zero gravity and aiming your sneeze during a spacewalk, the importance of packing hot sauce, and dozens of other cosmic quirks and amazements that come with travel in and beyond low Earth orbit.
The Doctor has been around a long time - but with the Doctor Who Character Encyclopedia you'll be able to study up on each and every character portrayed in ...
Learn everything you have ever wanted to know about the nectar of the gods by reading The Beer Book. This insanely informative and entertaining read guides ...
Prepare the whips and chains cutting board and spatula as you create the most erotic and delicious meal of your life using the Fifty Shades of Bacon ...
Learn to shred like the music gods in no time at all with the guitar learning system. This ingenious device goes over the guitar and shows you how to play ...
Enjoy swallowing a variety of cock everyday by receiving some helpful tips from the '50 Ways To Eat Cock' cookbook. This holy grail of culinary literature ...